Futures Workshops
Schedule a futures workshop today!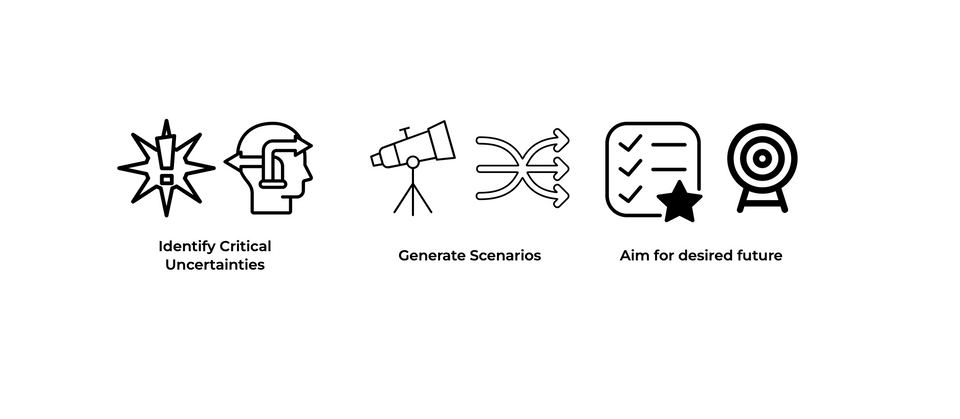 We think it's important for teams and organizations to quickly but carefully address critical uncertainties in their environments (whether technological, economic, political, etc.) in ways that draw from the diversity of perspectives across the entire organization. It can be a difficult strategy to operationalize in a fast-moving world, yet there are sets of tools and techniques that can help you to do so in an efficient and reproducible way. We at Organizational Mycology can help!
Benefits of a Futures Workshop
Gain competitive edge – by making space to identify critical uncertainties head-on, your organization will build a culture of talking about hard things for the benefit of the whole organization.
Harness collective intelligence – with an equitable and inclusive culture of futures thinking at your organization, you'll be able to draw from the collective intelligence and experiences needed to build resilient organizations.
Drive organizational resilience – by identifying priority areas and aligning the organizational culture with long-term resilience, redefining productivity, diversified revenue, and focusing on worker well-being, you can create a roadmap for success.
Contact us at [email protected] to run a transformative Futures Thinking workshop for your team and unlock your organization's full potential.
What do these workshops look like?
Futures Thinking is a way of strategizing to reach your organization's desired future that proceeds through three main steps:
Identify Critical Uncertainties
Develop Future Scenarios
Aim for your Desired Future
Step 1: Identify Critical Uncertainties in a shared way
---
What do different teams and/or team members view as the biggest obstacles to hitting their goals? Internally / environmentally?
What are their biggest opportunities / challenges?
What potential changes (internal or environmental) threaten catastrophe for the company, or offer a path toward prosperity?
Step 2: Generate Scenarios
---
In Step 2 we can either randomly or intentionally juxtapose our critical uncertainties into  2x2s (see below graphic) that help us to explore how they relate to each other.
What do different futures look like if these changes move in a given direction?
For example, what happens to your company if AI continues to progress? What happens if AI turns out to be mostly hype or has limited application in your industry?
Multiple uncertainties should be considered, placing them on a 2x2 that looks like this one, covering AI increasing / decreasing and working from home increasing / decreasing:
Team members collectively describe what experiencing each quadrant's Scenario would look, feel, smell, taste, and sound like. For example, what happens to revenue? Hiring? Competitive advantage? How do workers feel about their job?
🎤
A fun part of this exercise is coming up with pithy names for each quadrant! In a situation where AI continues to progress and remote work becomes more common, the title might be something like
"BRB, in a Zoom with My Chatbot Coworkers."
Each organization will have a different set of critical uncertainties, and juxtaposing two uncertainties together provides a way to contextualize the possibilities across a pair of uncertainties.
🎤
As your facilitators, we can focus on observing conversations, identifying themes, and writing rich descriptions. All your team members need to do is have a conversation in the context of these constraints.
Step 3: Identify a Desired Future and strategize towards it
---
Building shared agreement about what opportunities and threats feel the most real.
What are the organizational priority areas within the organization's culture? Perhaps productivity and revenue with worker well-being and long-term sustainability as one example.
Coming to this shared "desired future" state can take careful facilitation to make sure all voices are heard.
🎤
At the end of this process, a shared vocabulary for the future will be established and leaders will have a suite of materials to draw from as they make decisions that steer the organization toward its collectively desired future states.
Reach out today
Want to run one of these workshops for your team, reach out today at [email protected]
We can run workshops of various sizes and scope to meet client needs. Our smallest workshops start at about US $2,500 for modest-sized groups 10-15 people. We're happy to work with you to develop a plan that works best for you and your organization.